Previously Posted Job Opportunities
Here you will find jobs and opportunities that have previously been posted in Tuesday Newsday but are not our most current postings.
Kids Connection Developmental Therapy Center
For more information about Bright Life Play School, see here!
Before and After School Care Teacher and Assistant Positions
The City of Arroyo Grande offers before and after school care at Ocean View and Branch Elementary Schools and a similar program at the Elm Street Community Center. 
For more information about the teacher position, see
here
. 
For more information about the assistant position, see
here
.
Family Care Network Rehabilitation Specialist Position
LOCAL:Seneca Family of Agencies Support Counselor
See more about the available positions here.
The Boys & Girls Club of the Mid Central Coast
The Boys & Girls Club of the Mid Central Coast (BGCMCC) is opening a new club at Laguna Middle School! The club is hiring for an Assistant Club Director, 3 Youth Development Professionals (YDP) to work Part Time and 2 YDP's to work during lunchtime. For any questions, please contact Griffin Cook at griffin.cook@centralcoastkids.org
Associates in Early Intervention: Child Development Specialist Position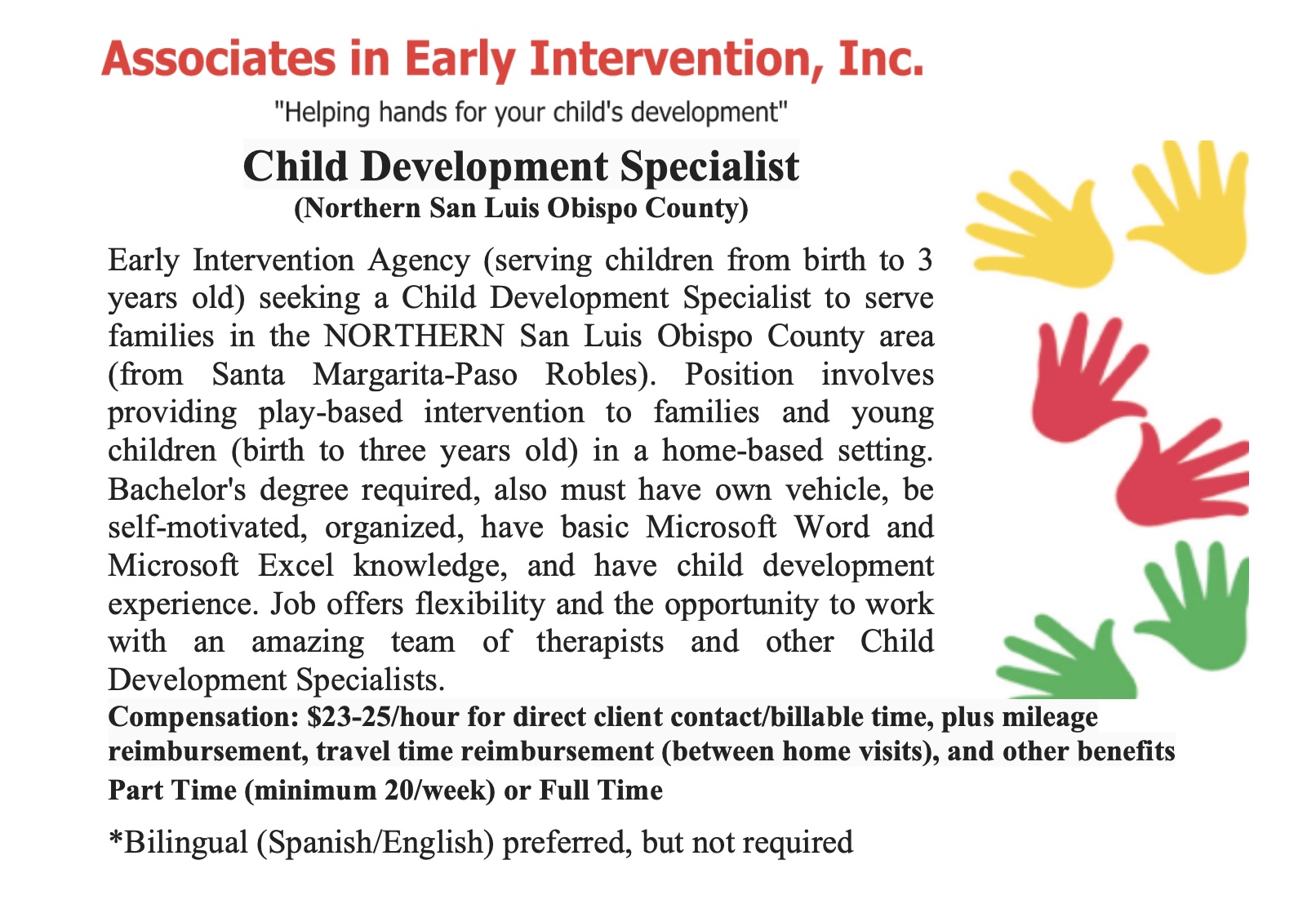 To apply, contact Julie Johnson: julie.johnson411@gmail.com, (805) 260-6975
CALIFORNIA: UCSD Social Cognition and Learning Laboratory: Lab Coordinator Position
The Social Cognition and Learning Laboratory (socallab.ucsd.edu), directed by Dr. Lindsey Powell, is seeking a full-time lab manager to begin Summer 2022, with a start date in late June or early July preferred.
The lab uses behavioral and neural (fNIRS) methods to investigate the development of social cognition and how it impacts learning from others in infancy and early childhood. The lab manager's responsibilities will center on research activities including recruiting, scheduling, and testing participants; creating experimental stimuli; and training and managing undergraduate RAs to collect and code data. The position will also involve administrative duties such as maintaining and purchasing lab equipment; maintaining and updating IRB protocols and participant databases; and maintaining the lab website and social media outreach. The lab manager will also organize and attend weekly lab meetings and is encouraged to attend other scientific talks and be a member of the intellectual community at UCSD.
The position will involve working closely with the PI and other senior researchers in the lab, and will present the opportunity to build skills in designing experiments and analyzing, presenting, and publishing data. The position is ideal for a recent college graduate interested in gaining research experience before deciding whether to pursue graduate study.
For the full job posting, and to apply, see here!
MASSACHUSETTS: Lab Manager Position: Smith College
The Mind in Development Lab (P.I. Dr. Maya Rosen) in the Neuroscience Program at Smith College (Northampton, MA) invites candidates to apply for a lab manager position beginning September 2022. Our research examines the impact of environmental experience on children's development. Many of our projects focus on understanding the neural, environmental and cognitive mechanisms explaining disparities in long-term outcomes including academic achievement and mental health.  Application review will begin on April 1st. To learn more and apply, please click here.

The Institute of Reading Development: Now Accepting Applications for Summer 2022
The Institute of Reading Development is now hiring summer teachers for our live online reading skills programs for students of all ages. Our programs provide students with the skills, books, and experiences they need to achieve greater success in school and beyond.  There will be opportunities for continued employment with the Institute after the summer. Apply Now  Learn more about us and our reading programs at https://instituteofreadingdevelopmentteachingjobs.com/.
Related Content