Psychology and Child Development Newsletter
News
Message from the Chair
From student research to study abroad experiences, we're excited to share some of this year's highlights from the Psychology and Child Development Department!
Reflections from Retiring Faculty
In her 30 years at Cal Poly, Shawn Burn has taught many classes and conducted and published research on a variety of topics.
Preschool Learning Lab Gets New Music Center
The Preschool Learning Lab dedicated an area of the playground to be used for a new music area for the children.
Students and Faculty Engage in Service Learning
During fall 2018, Sara Bartlett's Psychology of Aging class engaged in a service-learning project called the Lives Well Lived Project.
Read more about Lives Well Lived and other service learning proejcts
Psychological Science Scholarship Recipient Q&A
Get to know Brooke Sasia, this year's Psychological Science Scholarship recipient.  
Grad Student Spotlight
Get to know Jay Ramirez, a student in the Master of Science in Psychology program, who will graduate this spring.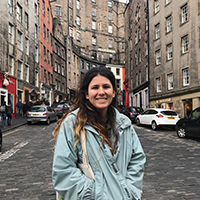 Students Share Their Learn by Doing Experiences in Study Abroad
From Italy to New Zealand, psychology and child development students have traveled to amazing places for study abroad.
Read more about study abroad experiences
Student Research 
Students in the Psychology and Child Development Department presented their research at conferences throughout the country.
Read more about student research
Alumni Spotlight
Get to know alumna Fran McIntyre-Dalmau.
Where Are They Now?
Catch up with psychology and child development alumni in their years since graduation.   
Graduate School Bound
Find out which psychology and child development students are continuing their education in graduate school. 
Plans After Graduation
Find out where these seniors in psychology and child development are heading after graduation!  
Faculty Research and Recognition
Join us in recognizing our faculty for their recent research and accomplishments.
Related Content