Study Abroad
Lisa Bertholdt, psychology senior
Bertoldt traveled to Germany in fall 2018. She shares, "my family is originally from Germany, which allowed me to visit my grandparents and other family who live in Germany. I spent time exploring my own heritage while embracing my culture and second language. Since Berlin is in the middle of Europe, it was very easy for me to travel to several other countries and broaden my worldview. I also had the privilege of doing a six-week internship with a start-up company in Berlin. This opportunity not only improved my overall experience, but it also allowed me to experience working in a foreign country. For this reason, I know that after my undergraduate time, I want to eventually live in Germany for some time. I highly recommend study abroad to everyone because it allowed me to meet some amazing people from around the world who I never would have met otherwise."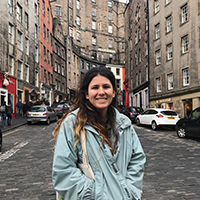 Kendra Cornell-Rath, psychology senior
Cornell-Rath studied abroad at the University of Birmingham in Birmingham, United Kingdom in fall 2018. "My experience abroad was truly life-changing! Studying abroad as a senior allowed me to take upper-division psychology courses at the university which was challenging but an incredible learning experience. I was in honors level, final year psychology courses, and had to adapt to a completely different school system. At first, I found the new school system difficult, but in the end, I found myself completely comfortable and enjoying the benefits that the English school system had to offer, such as self-discipline and new subject matter. I was taught by incredibly intelligent and invested professors and learned invaluable skills, like grant writing (something I would not have been exposed to otherwise.) Beyond academics, the life I got to create in England was fantastic. The University of Birmingham is an international school, so I met so many remarkable people from all over the world. The way the curriculum is designed allowed me to spend my weekends traveling and staying with many of the friends I met at the university. I traveled to London every other weekend and visited countless different countries in between. I fell in love with England, and the little home I made there. I can't wait to go back!"
Kailey Henderson, child development senior
Henderson studied abroad in Reggio Emilia, Italy, in fall 2018. She describes her time abroad as "truly amazing and no words can begin to express the wonderful experience. Reggio Emilia is a lesser known Italian city, not filled with many tourists and overflowing with rich Italian culture. One of my favorite opportunities that I had abroad was interning in an infant and toddler center directly in the city center. I learned so much through working in a child care facility across the world and observing first handedly their values and practices encompassing the field of child development. My study abroad experience provided me with tremendous growth, exploration of different cities and countries, and lifelong friends who I shared the memories with. If anyone is thinking about studying abroad, I can't emphasize enough of what a meaningful experience it truly is!"
Allie Magnawa, child development junior
Magnawa studied abroad in Cork, Ireland, in fall 2018. She shares her Learn by Doing experience in Ireland: "Studying abroad allows you to truly get out of your comfort zone, and in doing so, I was able to make amazing memories with new friends. During my time abroad, I got to learn about Ireland inside and outside the classroom. I was surrounded by students from countries all over the world, and I took two courses about Ireland, traditional Irish music and Irish folklore." She also traveled to seven other countries: "This experience helped me learn so much about my own identity as well as respecting others' cultures which is such an important skill for everyone to have, especially as a child development major."
Alexandria Merrick, child development junior
Merrick spent fall of 2018 studying abroad in Prague, Czech Republic at Anglo American University. She shares, "This was an amazing opportunity because my classmates were full time students who lived there, which exposed me to so many new cultures. Being in a country I had never been to before really pushed me to explore new surroundings and step out of my comfort zone. I am thankful for my time abroad, being able to travel to new places all while getting credit for classes. I met new people who have become some of my closest friends. I absolutely loved my time abroad and have grown so much from this experience."
Rachel Semple, psychology senior
Semple studied in New Zealand during fall 2018. New Zealand's school calendar enabled her to spend six months abroad. She shares, "during this time, New Zealand truly became a second home to me. Traveling to an English-speaking country allowed me to develop close connections with local students, professors, and even random strangers on hiking trails! These connections allowed me to become very involved in my host school's community. From intramural soccer games to weekends with the tramping (hiking) club, I learned so much about the 'kiwi' culture and way of life. My experiences abroad allowed me to become more independent and comfortable asking questions. New Zealand is an incredibly beautiful country with friendly people; I gained skills in patience, adaptability, communication, and maybe most importantly: avalanche survival!"
---
Related Content