Tuesday Newsday: April 12, 2022

STAY CONNECTED. STAY INFORMED. STAY ENGAGED.
Read Tuesday Newsday every week.
Get involved in the Poly Child Development Club, the Psychology Club and Psi Chi (the National Honors Society for Psychology). 
Get advising. Scroll to the bottom of Tuesday Newsday for information about advising appointments and faculty office hours. 
Student Support
In light of the recent student death on campus, the department faculty has compiled some support services and resources. Please take care of yourselves and others. Reach out for support if you want to talk with someone.
Counseling Services has Virtual "Let's Talk" Sessions scheduled Wednesday and Thursday at 2pm to talk with a counselor 1-on-1. 
https://chw.calpoly.edu/counseling/lets-talk
To schedule appointments with counseling services: (805)756-2511
Additional Resources
JUMP TO...
SHOUT OUTS
Professor Barrett will be a Speaker at TedX San Luis Obispo!
Friday 4/15th @ 3 p.m.
Get Info and Tickets HERE
Elizabeth Barrett is a Cal Poly professor, licensed therapist, and host of the popular podcast The Reluctant Therapist. In her talk, she will share new perspectives on approaching mental health and our perceptions of what happiness truly means.
And these speakers, also giving talks relevant to psychology....
Sam Royal is a fourth-year psychology major at San Jose State University. Their work with children on the spectrum and the lessons spurred out by these experiences have driven them to want to spread the message on what it takes to be the right person going into this specific field. One of Sam's biggest takeaways as a guiding figure for these children is to treat them the way that you or any person would want to be treated.
Luis Venegas is a San Luis Obispo native committed to reimagining the way we conceptualize restorative justice. His talk is centered around the need to empathize with our previously/currently incarcerated community members and treat them with dignity and respect.
Sue Kaur is a global space systems engineer who has worked at a number of prominent space agencies. Her talk is focused on reconfiguring the relationship between leader and their teams in order to achieve better outcomes for all involved.
 
Thank you to PSYCD Student Volunteers for Making the Annual X-Games a huge success!
See pics on the department Instagram
And THANK YOU to Alice Antony and Amelia Burge (Student Advisory Cmte Members) for representing the department at Open House!
DEPARTMENT NEWS
It's Planning Time for Fall Internships!!
(Please direct all internship-related questions to Dr. Julie Garcia)
FIELDWORK INTERNSHIPS: LIMITED TO SENIORS
Please read more about internships, including prerequisites and field work sites, here. However, please note that some fieldwork sites on our list may be unavailable due to public health restrictions. In addition, some placements may require that interns be vaccinated.
RESEARCH INTERNSHIPS: LIMITED TO SENIORS
Interested in the Research Track?
This video provides information for interested students! More info coming soon! 
DEPARTMENT OPPORTUNITIES
Focus Group Volunteers
Volunteers are needed for a focus group examining college students' experiences during the pandemic. This PSYCD student and faculty project will take place on Friday, 4/15, from noon-12:30pm, or Friday, 4/15, from 1pm-1:30pm. Please register at the google form and join us on zoom.
Senior Project Symposium, June 2nd from 11-1
Every spring we gather to hear about the work PSYCD seniors have been doing for their senior projects.  
Interest Form for Senior Project Seminar

Scholarship Opportunities for 2022-23
The university's Common Scholarship Application is linked from Apps in MyPortal and allows students to apply for all CP scholarships with just one application.
The Scholarship Office encourages students to apply by April 30 in order to maximize the opportunities available, although departments may have different deadlines. Students can apply all the way until Feb. 2023 but most scholarships will be awarded before then. 
You may particularly want to look at this one...
Psychological Science Scholarship Endowment
The Psychological Science Scholarship Endowment supports upper division Psychology majors concentrating on psychology as an empirical science. Selected student must have a minimum 3.5 Cal Poly GPA with preference to students who attended a partner high school, are first generation and/or show demonstrated financial need.
Apply through the Common Scholarship Application and include: college courses and research internships that you have taken to prepare for a career as a scientist in the discipline of psychology, your career goals as they relate to psychology and psychological research, and unofficial college transcript.
2021-22  Student Travel/Professional Development Awards
The Psychology & Child Development Department has approved the use of limited discretionary funds during the 2021-22 academic year for reimbursement of student expenses related to presenting at a conference (in person or virtual).  This award is also available to graduate students attending workshops or other professional development opportunities
Any Psychology or Child Development major, or Psychology graduate student, who spends personal funds towards such an activity may apply for a PSYCD Student  Award. Students may apply for one conference/workshop reimbursement per academic year. Applications will be reviewed on a rolling basis through June 1, 2022.
Please follow these steps at least 2 weeks before the event (if possible).

Do you like to plan parties? 
The PSYCD Department is planning a Graduation Reception for our 2022 Graduates. It will be held early evening on Friday, June 3rd.  We are looking for students to help plan this event to recognize seniors - Juniors are particularly encouraged to pay it forward. Contact Dr. Jipson if you want to help with the event.  
CLUB EVENTS
Psi Chi
The application deadline is April 14th.
Psychology Club 
Hey all! Psychology Club has some great events coming up and we want you at all of them!
First is our Intergroup Dialogue taking place in Baker room 101 from 11:10am-noon this Thursday, April 14th. We are hosting this event with Psi Chi and are so excited to have some great conversations with everyone.
The second date to mark in your calendar is Saturday April 16th. PCDC and Psych Club will be volunteering from 8am til 2:30pm at Pismo Beach Parks and Rec's Easter event at Dinosaur Caves Park. We can use all the volunteers we can get so please fill out these two forms if interested:
https://docs.google.com/forms/d/e/1FAIpQLSfoiyThHv3oR_3piQQHDQHwjZvCYUisdiRxlM7lWt6aV1NFAw/viewform?vc=0&c=0&w=1&flr=0
https://forms.office.com/g/L5m1Jm5QY1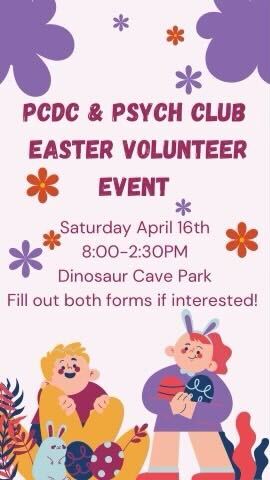 Finally, the Cal Poly Psychology Club, Hospice SLO County, and Cal Poly Counseling Services are hosting a COVID-19 Memorial Service on Tuesday, April 19th at 6:10 pm. Hosted at O'Neill Green, the memorial will commemorate the past two-plus years of the COVID-19 pandemic and will allows students and faculty to grieve the time, important life events, and people lost to the virus. Join fellow campus members in honoring the grief and resilience experienced the past two years with inspirational speakers, flower planting/self-care activities, memorializing, and more. Counselors will be onsite for anyone in need of additional support. For more information, please contact cpslo.psychclub@gmail.com or spbartle@calpoly.edu.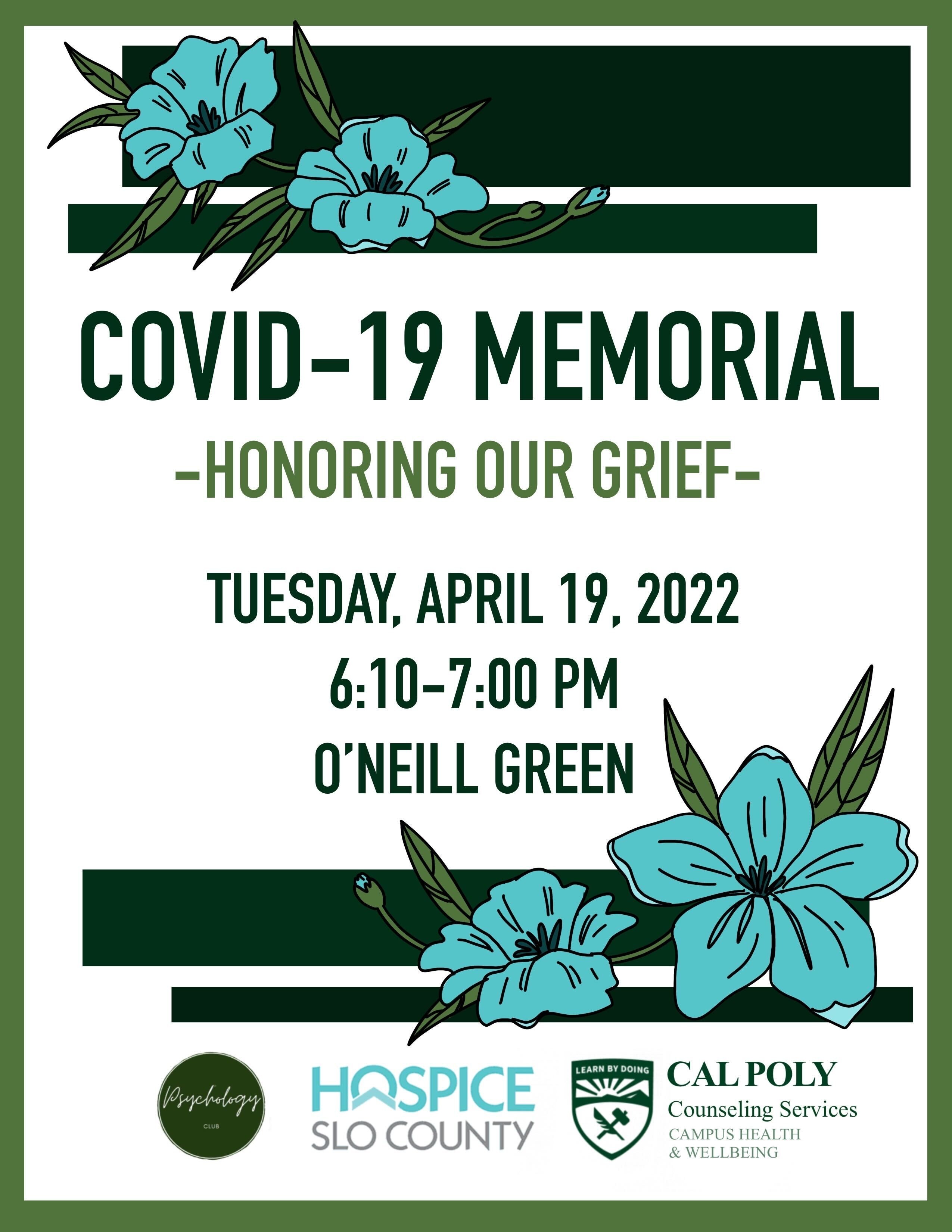 We are excited about these events and excited to see you at all of them! Reach out with any questions to the Psych Club Instagram (@cpslo.psyclub ) or GroupMe!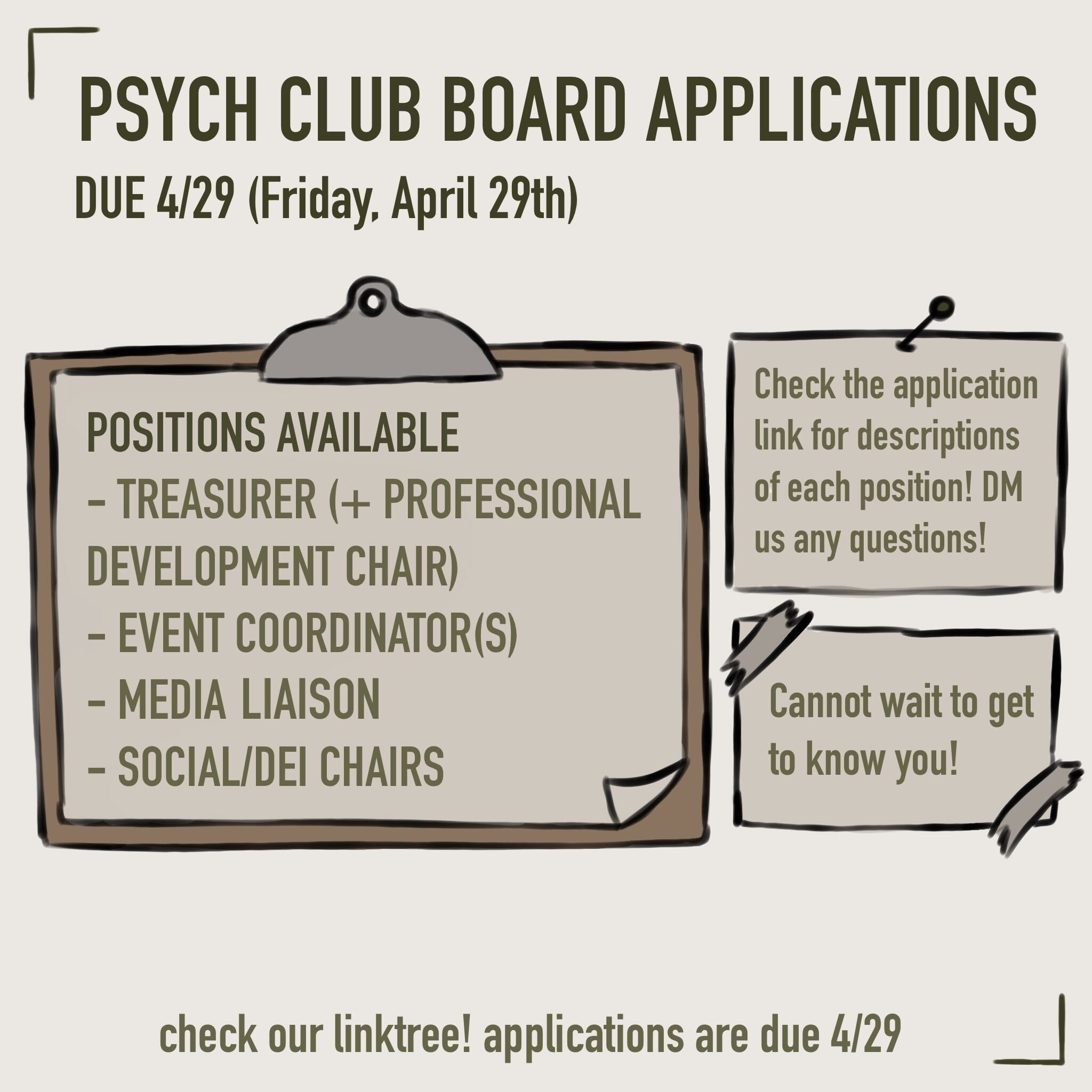 Are you interested in getting more involved with psychology and expanding your network, making new friends, and planning awesome events? We are super stoked to announce that Psychology Club is now accepting applications for next year's board! Being on board is an excellent way to gain leadership skills, meet other outstanding students, and get involved in the department and community. Holding a board position is a great addition to your academic career, allowing you to connect with faculty, and other students in leadership roles.
Poly Child Development Club
See above collab with Psych Club!
CAMPUS OPPORTUNITIES
April is Sexual Assault Action Month, and Safer has events you won't want to miss!  
For more information on Sexual Assault Action Month events, including Take Back the Night on April 28, please visit the Safer website. 
OWN: Original Womxn's Narratives
Cal Poly Undergraduate Research Week (4/18-4/22)
Individualized Nutrition and Wellness Coaching
Ready to Develop New, Healthy Behaviors?
Our free, individualized Nutrition & Wellness Coaching is for you if you want to develop new, healthy habits that promote personal wellness.
If you sign up, you will work one-on-one with a senior-level nutrition counseling student for 4 sessions, each ~30-60 minutes, scheduled around your availability. This will take place in person and/or virtually over Zoom.
You and your coach will find solutions for your wellness challenges and set achievable goals each week. Sessions will be tailored to your individual needs and priorities, such as:
· Healthy food preparation
· Increasing physical activity
· Making healthy choices when eating out
· Meal planning
· Starting a walking program
· Managing portion sizes
· Increasing fiber in your meals
· Cutting down on fat or sugar intake
· Adding variety to your exercise routine
· Reading food labels
· Choosing healthy snacks
· Achieving a healthy weight
· Grocery store tours
· Your other personal wellness goals
This is a Learn by Doing and graded experience for our students, as they enhance their nutrition counseling skills. You commit to attending 4 sessions when you sign up, slots will be filled on a first come, first serve basis, so sign up now!
All sessions are confidential. Please contact Sherry Elliston MS, RD, CDE, at 805.756-2565 or sellisto@calpoly.edu to sign up and with any questions.
Become a CLA Ambassador!
Being a member of this club is a great leadership opportunity and is open to all students in their second year and above, who are a part of the College of Liberal Arts. Below is a brief description of what our club does/its requirements plus the actual application link.
Description: "CLA Ambassadors serve as the student public relations representatives of the College of Liberal Arts. We conduct one-hour info sessions for prospective students and supporters, as well as mentor the freshman CLA Learning Community. We meet twice a month and ambassadors are required to lead one info session per quarter."
Link: https://forms.gle/Wfo3HczEarjoxe6A7

CLA Summer 2022 Undergraduate Research Program (SURP)
Applications are now being accepted for the CLA Summer Undergraduate Research Program.  Up to 15 faculty projects will be available for student applications.  Student Information Meeting will be held virtually April 14th, 11:10am-12pm Questions should be directed to Dawn Neill, Director of Research Engagement and Internationalization, CLA dbneill@calpoly.edu.
Students must apply by Friday, April 29, 2022.  Please join us for information sessions to address additional questions.  Full details available in the SURP Request for Proposals.

NEW CLUB: Society for Advancement of Chicanos/Hispanics & Native Americans in Science
It's official, SACNAS is a new club on campus, and we are looking to increase our membership!  Are you a student in STEM interested in cultivating a society of diversity, inclusivity, and belonging at Cal Poly? Consider joining the newly created SACNAS chapter at Cal Poly SLO. SACNAS [Society for Advancement of Chicanos/Hispanics & Native Americans in Science] is an all-inclusive and supportive organization with opportunities to immerse yourself in research, professional development, and multicultural celebrations. For every academic/career path, SACNAS will connect you to the right people, programs, and resources for you to grow. 
Follow our 
Instagram page
 for updates, resources, and links to general meetings.  
Account: @sacnas_calpolyslo Sign up to join the email list 
here
. 

CLA Social Media and Digital Content Student Assistant
The College of Liberal Arts is hiring a social media and digital content student assistant the begin training in the 2022 spring quarter. Joining the communications team, this position will manage social media accounts, write short-form news updates, and create/update website content. Day to day tasks will include drafting and posting stories to social media, pitching and execute social media campaigns, compiling stories and events for monthly newsletters and publications, and tracking media mentions and website analytics.
Required skills include: being an excellent writer with attention to detail, knowledge of AP style and ability to learn Cal Poly editorial style guidelines, professional email communication, ability to comprehend the guidelines of an assignment and then proceed independently with minimal direction, ability to multitask and meet deadlines by working both independently and collaboratively, capacity to enthusiastically contribute to a collaborative and creative environment. This position begins in Spring, lasts through summer, and into the '22/23 academic year. 
To apply, send a cover letter and resume to Cara King (cking29@calpoly.edu) by Friday, April 15
OFF-CAMPUS RESEARCH, MENTORING, CONFERENCE AND OTHER PROFESSIONAL OPPORTUNITIES 
In no particular order....
MASSACHUSETTS: Lab Manager Position: Smith College
The Mind in Development Lab (P.I. Dr. Maya Rosen) in the Neuroscience Program at Smith College (Northampton, MA) invites candidates to apply for a lab manager position beginning September 2022. Our research examines the impact of environmental experience on children's development. Many of our projects focus on understanding the neural, environmental and cognitive mechanisms explaining disparities in long-term outcomes including academic achievement and mental health.  Application review will begin on April 1st. To learn more and apply, please click here.
NEW JERSEY: Memory and Computational Cognition Lab - Rutgers University
The Memory & Computational Cognition Lab (MC2) directed by Dr. Kimele Persaud at Rutgers University – Newark is looking to hire a full-time lab manager/research specialist. This position will manage and contribute to research on understanding how individuals across different groups leverage their prior knowledge and expectations to help encode, store, and reconstruct information from memory. This position is for an initial contract of one-year, with the possibility of two additional years pending positive performance. The preferred start date is June 15, 2022.  For more information about MC2 Lab research, please visit,  https://sites.rutgers.edu/mc2-lab/
To apply, please email 
Kimele.persaud@rutgers.edu
 a cover letter, a resume or CV, and the name, title, and email addresses of at least two academic or professional references. Review of application materials will continue until the position is filled. 
CALIFORNIA: UCSD Social Cognition and Learning Laboratory: Lab Coordinator Position
The Social Cognition and Learning Laboratory (socallab.ucsd.edu), directed by Dr. Lindsey Powell, is seeking a full-time lab manager to begin Summer 2022, with a start date in late June or early July preferred.
The lab uses behavioral and neural (fNIRS) methods to investigate the development of social cognition and how it impacts learning from others in infancy and early childhood. The lab manager's responsibilities will center on research activities including recruiting, scheduling, and testing participants; creating experimental stimuli; and training and managing undergraduate RAs to collect and code data. The position will also involve administrative duties such as maintaining and purchasing lab equipment; maintaining and updating IRB protocols and participant databases; and maintaining the lab website and social media outreach. The lab manager will also organize and attend weekly lab meetings and is encouraged to attend other scientific talks and be a member of the intellectual community at UCSD.
The position will involve working closely with the PI and other senior researchers in the lab, and will present the opportunity to build skills in designing experiments and analyzing, presenting, and publishing data. The position is ideal for a recent college graduate interested in gaining research experience before deciding whether to pursue graduate study.
For the full job posting, and to apply, see here!
CALIFORNIA: Research Coordinator Position Available— Claremont McKenna College, Claremont, CA 
The Applied Mind and Health (AMH) Lab, directed by Dr. Stacey Doan at Claremont McKenna College in the Department of Psychological Science, seeks a full-time (with benefits) research coordinator/manager beginning the Summer of 2022. Our research focuses on emotions, stress, relationships, and their implications for mental and physical health. Our work is funded by the National Institutes of Health and the National Science Foundation. The research coordinator will work closely with the PI and lab group on a research program investigating how emotions and relationships affect behavior, health, and physiological outcomes in children, adolescents, and young adults. 
Responsibilities include: overseeing day-to-day lab operations, managing, hiring, coordinating, training, and working with undergraduate research assistants, designing and implementing experiments, data management and analysis, participant recruitment and scheduling, conducting literature reviews, maintaining IRB protocols, budgeting, website, etc., planning and leading lab meetings and social events.
Preferred qualifications: a Bachelor's or Master's degree, extensive research experience in a psychology lab, experience or a desire to learn psychophysiological and hormone data collection and analysis, detail-oriented, excellent organizational and multitasking skills, and ability to work independently, strong interpersonal, communication, and writing skills, strong analytical skills (e.g., experience with SPSS, R.) 
To apply, please submit a cover letter, CV/resume, and a list of potential recommenders to Dr. Doan at sdoan@cmc.edu. Please use the subject line "Lab Coordinator Position." Applications are due May 1, 2022. Questions about this position should be directed to Dr. Stacey Doan at sdoan@cmc.edu. 
Please check Tuesday Newsday archives for past info on opportunities.
PAID JOB OPPORTUNITIES
We are hiring over 2,600 summer staff members to lead our students this summer in the Bay Area, Southern California, Seattle, Chicago, and Washington DC. Here's a quick summary of Galileo's summer staff positions:
Summer Operations Interns: Interns work to support all aspects of office operations and camp programming. Recommended for college freshmen.
Camp Counselors: Our Camp Counselors  will take their small groups of campers from rotation to rotation, and spearhead camper management and community building. Recommended for undergraduates looking to gain leadership and/or education experience. 
Instructors: Focus on teaching one elementary-level subject (art, science, or outdoor play) to a specific age group for the entire summer. Recommended for students with leadership and childcare experience. 
All you need is 15 minutes and an updated resume to take the next step in having one of the most transformative summers of your life! Need help with your resume? We've created this template for you to use when updating your resume. 
Our next priority application deadline is Sunday, April 10th at 11:59PM PT
Family Care Network Rehabilitation Specialist Position

The Institute of Reading Development: Now Accepting Applications for Summer 2022
The Institute of Reading Development is now hiring summer teachers for our live online reading skills programs for students of all ages. Our programs provide students with the skills, books, and experiences they need to achieve greater success in school and beyond.  There will be opportunities for continued employment with the Institute after the summer. Apply Now  Learn more about us and our reading programs at https://instituteofreadingdevelopmentteachingjobs.com/.
LOCAL: Associates in Early Intervention: Child Development Specialist Position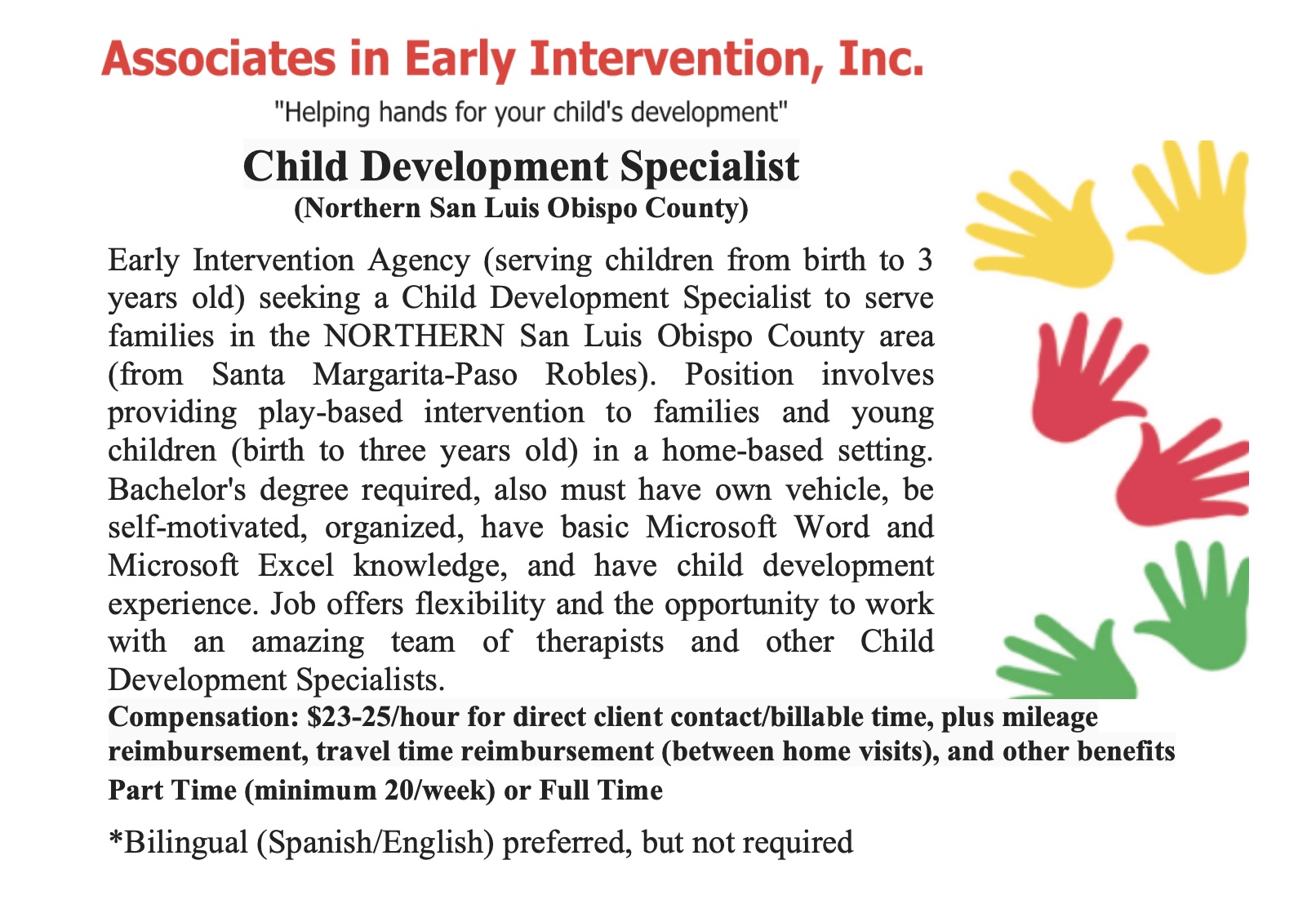 To apply, contact Julie Johnson: julie.johnson411@gmail.com, (805) 260-6975
Summer PRESCHOOL TEACHER (SLO UMCC)
The San Luis Obispo United Methodist Children's Center (UMCC) is a NAEYC Accredited Preschool and has proudly been open for over 30 years. We are conveniently located off the freeway near Cal Poly. We are in need Summer Preschool Teachers starting June 13, 2022. There are multiple positions available- some are M-F, and some are MWF or TTH. You must have Early Childhood Education units (a minimum of 6 ece units and enrolled in college, or 12 ece units) and a love for young children is a must! Your daily job duties would be planning an age-appropriate curriculum, setting up the classroom and team teaching with another teacher. Our Summer Session is 8 weeks, June 13-August 5. When emailing us, please include your unofficial transcripts and your resume. Please contact Liz or Mona at 805.549.0332.
Before and After School Care Teacher and Assistant Positions
The City of Arroyo Grande offers before and after school care at Ocean View and Branch Elementary Schools and a similar program at the Elm Street Community Center. 
For more information about the teacher position, see
here
. 
For more information about the assistant position, see
here
.
LOCAL: Kids Connection Developmental Therapy Center
For more information about Bright Life Play School, see here!
Seneca Family of Agencies Support Counselor
See more about the available positions here.
The Boys & Girls Club of the Mid Central Coast
The Boys & Girls Club of the Mid Central Coast (BGCMCC) is opening a new club at Laguna Middle School! The club is hiring for an Assistant Club Director, 3 Youth Development Professionals (YDP) to work Part Time and 2 YDP's to work during lunchtime. For any questions, please contact Griffin Cook at griffin.cook@centralcoastkids.org

HOW TO ACCESS FACULTY FOR OFFICE HOURS AND ADVISING
SPRING 2022 office hours will be posted soon on the PSYCD Website. These times are reserved for you! Drop in with advising questions, career/graduate school questions, or just to introduce yourself and chat.
Remember: Your faculty advisor can serve as your academic and career mentor and their signature is often needed for important paperwork. Be sure to reach out to talk with your faculty advisor on a regular basis. PSY First Year Students and new transfers received an email from the department with the name of your faculty advisor. CD students can find their advisor under Academic Advising on our department website. Students admitted into the PSYCD majors through ICMA will receive an email with advisor information.
Returning students can contact the department office if you need to be reminded of your faculty advisor's name and contact information.
Dr. Jipson is also available to advise students advise about minors, ICMAs, course schedules, and graduation requirements.*  Her office hours are listed below.  Please use the calendar links below to sign up for appointments.  
*All internship-related questions should be directed to Dr. Julie Garcia.
Dr. Jipson's In-Person Advising
Use this link to schedule:   https://calendly.com/jjipson/in-person-advising
Mondays 11-1/Thursdays 9-11 a.m.: In person advising only. Students can schedule a 15 minute time slot using the In-Person calendar link above, or drop in.  If dropping in, priority will be given to those with an appointment.
Dr. Jipson's Zoom Advising
Use this link to schedule:  https://calendly.com/jjipson/zoom-advising
Tuesdays 1-2 p.m/ Wednesdays 8:30-10:30 a.m.. Zoom advising only.  Students can schedule a 15 minute time slot using the Zoom appointment calendar link.
College of Liberal Arts Advising
CLA Advising is available to assist with registration, academic planning, general education and other degree requirements. referral to support services, advice about major changes, and academic policies and procedures.
CLA Advising Center Hours and Contact Information: 
In-person & Zoom Appointments: 
Monday - Thursday: 9:00am - 12:00pm & 1:00pm - 4:00pm
Virtual Fridays: 9:00 am - 12:00pm & 1:00pm - 4:00pm
Zoom Drop-In Advising: 
Monday - Friday, 10:00am - 12:00pm & 2:00pm – 4:00pm 
(hours extended during busy times, see website)
No in-person drop-in advising
ARCHIVES
Tuesday Newsday, April 12, 2022
Tuesday Newsday, March 28, 2022
Tuesday Newsday, March 8, 2022
Tuesday Newsday, March 1, 2022
Tuesday Newsday, February 15, 2022
Tuesday Newsday, February 8, 2022
Tuesday Newsday, February 1st 2022
Tuesday Newsday, January 25, 2022
Tuesday Newsday, January 18, 2022
Tuesday Newsday January 11 2022
Tuesday Newsday, January 4, 2022
Related Content